THRIVE has an every growing product line, which can make it a bit daunting when trying to decide what to buy first.
THE SOLUTION: Use the THRIVE Smart Start Kits to set up your Monthly Q
3 Easy Ways to Start Building your Home Store with THRIVE!
Solution 1: A Taste of Thrive — will help you start using THRIVE in the meals your family already loves. It comes with some of our most convenient, delicious, and time-saving THRIVE products, plus all the tools you need to start using them in your favorite meals right away. You'll cut down meat prep, waste less, and eat healthier in no time!
Budget: $100/month (3 shipments)
27 THRIVE foods
Helpful tips and info on each food
Recipe and usage ideas in each shipment
THRIVE Guide full of product info
Quick Reference sheet for fridge
Solution 2: Chef's Selections 200 — does the meal planning for you — each shipment comes with all the THRIVE ingredient you need to make that month's recipes in the included recipe booklet. Created in-house by Chef Todd Leonard, the 39 included entree, side and dessert recipes will wow at the dinner table and show you how easy it is to cook with THRIVE!
Budget: $200/month (3 shipments)
66 THRIVE foods
Booklet of 38 recipes using included items
Meal planers for each month
THRIVE Guide full of product info
Quick Reference sheet for fridge
Monthly shopping lists
Solution 3: A Taste of Thrive (see Solution #1) plus the Monthly Specials. Set you budget for $200/month. Then request the Taste of Thrive for $100 and then modify the 2nd $100 to include the current months specials, taking advantage of these extra savings. Note: The number of monthly special products you'll receive, will depend on the combination you select to make the second $100.
Click here to see a list of products delivered by month for both a Taste of Thrive and the Chef's Selections 200. There is also the list of recipes from the Chef Selection Recipe Booklet by month.
All 3 Solutions come with: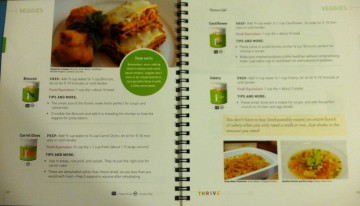 THRIVE Guide: — A complete Reference Manual — your one and only stop for preparing and cooking with THRIVE! It includes prep instructions and usage tips for every THRIVE product, plus tasty recipe images and ideas, a quick reference chart, rehydration tips, and 6 of Chef Todd's favorite THRIVE recipes. This handy guide contains everything you need to start using THRIVE in your everyday meals!
AND
Quick Reference sheet for the fridge. This handy reference sheet is a perfect quick reference to using THRIVE. Hang it on your fridge with the enclosed THRIVE magnet and you won't miss a beat as you are using THRIVE in your kitchen every day!
I love both of these and use them regularly.
NOTE: If you decide to customize your Q from the start, you would have to order the THRIVE Guide as a separate item on your Q. The Quick Reference Guide would have to be ordered separately through a THRIVE consultant, like me.
If you have any questions, feel free to ask them in the comments and I will answer them as best as I can.