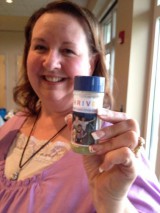 Hi, my name is Kay Curtiss and I'm glad you're here. I'm the creator of The Thrive with Kay Solutions, and an Independent Consultant for Thrive Life, the premier source for healthy, convenient, and cost efficient foods.
Kay loves her family!
I have been married to the love of my life, Don, for over 35 years. We have one son, Matt, who currently lives with us as he is working on his college degree. Don is an HVAC mechanic, running his own business as well as working full time for our local school district in the maintenance department.
Kay is active in many roles!
I worked in the LDS Book Industry for over 20 years including 7 years on the LDS Bookseller Board of Directors, working to help Independent LDS Bookstores with their marketing needs. I managed 4 bookstores for 18 years. The last 4 years I pulled out of the "day to day" running or these 4 stores and worked to help all the Independent LDS Bookstores in our association with their websites, emails, and social media. I also managed their LDS Books & Things catalog, evolving it into more of a magazine format with lots of great content. It was during those last few years I got involved with Thrive Life to see how it could help these Independent LDS Bookstores. In August 2013, I "retired" from this industry, so that I could pursue my home-based business with Thrive Life, working to enable my husband to be home more!
I am active in my Church and have served in many capacities, but my favorite has always been teaching.  I've taught all ages from Primary age kids to Teenagers to Adults.  I am currently serving in an administrative position in our Primary Organization, which works with the children from 18 months to 12 years old.  We currently have over 50 children in our Primary, so makes for a lot of fun on Sundays.
I am the oldest of 6 girls and come from a long line of great cooks, so it's no wonder that I enjoy cooking and experimenting in the kitchen with the nutritious and easy to use Thrive products.
My Thrivin' Life also includes researching my genealogy and family history, reading, spending more time with my family, and traveling to fun places with my husband and son (when he can go with us).
In addition to teaching others about the benefits of Thrive, I'm learning how to use Essential Oils and Herbs to more naturally take care of my family and eliminate chemicals from my home. I'm also trained as a Simply Healed Practitioner, assisting individuals (mostly my family) in releasing negative energy and blocks in their systems in a quick and non-invasive way.
Kay loves her life, but it is busy — Can you relate?
If you are anything like me, your life is hectic and you get tired of fast food runs or pre-packaged meals loaded with chemicals and preservatives — because you think that eating healthy takes a lot of time and costs more money.
Kay loves to help people! 
That's why I'm here. I want to help you eat healthier, save time, and save money. And if you are so inclined and want to develop your own home-based business, I want to help you make money as fast as possible with your business, using a simple marketing strategy that most home-based business owners just don't do.
If this sounds good to you, I form my closest relationships via email (what I consider the most popular one-to-one social network). I've put together a little e-course that I deliver to your inbox, that will take you through learning some basics of eating healthier, saving time and ultimately saving money. You'll then learn the fundamentals on getting started using Thrive, if you feel it would be a benefit to you and your family. It's free, and I encourage my subscribers to click reply at anytime to ask questions. Go for it. You have nothing to lose and everything to gain.
I'd love to get to know you! Say hi below in the comments and/or sign up for my free eBook below.