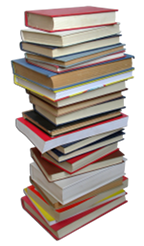 Do you love to read?  It's one of my favorite ways to relax, to transport myself to another time and/or place.  And in my "old" life in the LDS Book industry, I read and reviewed a lot of books.
I also love to learn and go at my own pace, so learning by reading is sometimes easier for me, even over video or audio, as they sometimes move too slow. (Although Enounce is a great tool I found and use to watch videos online at a faster speed, saving me time)
So as part my my Thrivin' Life, I'll share some of my favorites here. Share some of your favorites in the comments.  I'm always looking for a good book.
Enjoy the Journey and Read!
Cookbooks I Like
Kay's Fun Reads
Thinking Right Reads
Kay Curtiss
Email: kay@thrivewithkay.com
www.ThriveWithKay.com
Let's Connect on Facebook: Thrive With Kay