Thrive with Kay Thinking Right Books & e-Books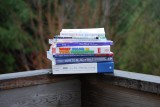 I belief that if you get your thinking and attitude right, then good things follow.  So here are some of my favorite books that I've read that have helped be do just that.
Check out the books that Kay recommends and let her know what you think.
We are always adding to the list so keep checking back.
The Secrets of As A Man Thinketh
by Adam Mortimer
The 5 Laws That Determine All of Life's Outcomes
 byBrett Harward
Conversations with a Moonflower
by Chris Hall
The Burnout Cure: An Emotional Survival Guide for Overwhelmed Women
by Julie Hanks
The Power of Starting Something Stupid
by Richie Norton
Hidden Treasures: Heaven's Astonishing Help with Your Money Matters
by Leslie Householder
Bonds That Make Us Free: Healing Our Relationships, Coming to Ourselves
by C. Terry Warner
Gift from the Sea
by Anne Morrow Lindbergh
Loving What Is: Four Questions That Can Change Your Life
by Bryon Katie
The Anatomy of Peace: Resolving the Heart of Conflict
by the Arbinger Institute
Kay Curtiss
Email: kay@thrivewithkay.com
www.ThriveWithKay.com
Let's Connect on Facebook: Thrive With Kay