A nice balance of sweet and heat!
A few years ago, I tried making my own homemade sugar free ketchup. It didn't turn out the way I hoped, and my husband never really liked it. My friend, Cindy Suelzle, made her own Best Ever Ketchup, using Thrive Tomato Powder*** (#22237) as the base and really raved about how good it turned out on her Thrive Blog. I wanted to try it, but was a little nervous after my previous not so good experiments. Click here to download Cindy's Ketchup Recipe, if you want to try it.
I'm on a new quest to greatly reduce the sugar in my life, as I continue to cook more nutritious meals with Thrive and lose some weight too. SO, I made another attempt at making a SUGAR FREE KETCHUP using Thrive. I used Cindy's recipe as a base and then did my own tweaks to make it sugar free and kick it up. The result? My husband said it was the best I've made and he really liked it! WhooHoo — Success! I really liked it too.
***Click here for tips and other uses for Thrive Tomato Powder.
So here's my recipe for:
FD – Freeze Dried
Product numbers after products are for Pantry Cans except Spice Cans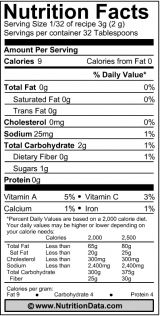 Ingredients:
1 cup THRIVE Tomato Powder (#22237)
3 1/2 cups water
1/3 cup Stevia Sweet Blend** or other sugar free equivalent
1/2 cup Bragg's Apple Cider Vinegar
2 Tablespoons THRIVE FD Chopped Onion (#22227)
2 Tablespoons THRIVE FD Celery (#22223)
1/2 teaspoon THRIVE Iodized Salt (#22668)
1/2 teaspoon THRIVE Chef's Choice Seasoning (#23628)
1/4 teaspoon THRIVE Peppercorn Blend (#23629)
1/4 teaspoon Cayenne Pepper, optional (but it makes the Fire)
1/2 teaspoon Minced Garlic or Garlic Powder
1/2 teaspoon THRIVE Baking Soda (#22661)
1/2 teaspoon Dry Mustard
1/8 teaspoon Allspice, ground or powdered
1/4 teaspoon Cinnamon
Directions:
In a medium sized pot combine all the ingredients. Stir with a wooden spoon to mix and bring to a boil, stirring frequently. Reduce heat and gently simmer, stirring frequently till ketchup reaches the perfect consistency for you. Blend until smooth if FD onions & celery too chunky for you.
Pour into glass jars, cool and refrigerate.
Yields: 2 pint jars.
Serving Size: 1 Tablespoon or 32 servings/jar (64 servings for the recipe)
**Stevia Sweet Blend:
1 cup GMO-free Erythritol
1 teaspoon Organic Pure Stevia
Here's the cost breakdown for the Thrive ingredients in this recipe: